"My son has been attending Spectrum Tuition for the last two years. The material covered is very carefully structured and the tutors he has had have been instrumental in his progress (he is studying maths a year ahead of his high school year) as they deliver the material in a logical manner that helps build his knowledge and confidence. It is also helpful that that my wife and I are able to see how he is going along by logging onto the website and checking his progress. We will also be enrolling my younger son in the maths subject they run. I also told my sister about Spectrum tuition and my nephew is also enrolled at Spectrum Tuition and they are thrilled with his progress as he was struggling with maths at school. A big thank-you to Thuy and to all the wonderful tutors who dedicate their time and effort in helping the children. Keep up the good work. Kind regards, Chris." – Chris Minas, Parent.
Each year, Australian students in years 3, 5, 7 and 9 are required to sit the NAPLAN test. The test is aimed at examining general abilities in reading, writing, spelling, and numeracy in order to ensure whether students across Australia are meeting national literacy and numeracy standards.
The NAPLAN test was originally intended to assess whether particular schools were adequately preparing their students. However, due to the standardised nature of the test, some selective schools are using NAPLAN scores as a method of selecting prospective students.
So, why is the NAPLAN important to your child?
1. Because NAPLAN is no longer just used to assess your child's school; it's used to assess your child.
Whilst the NAPLAN was originally intended to assess the performance of schools across the country, many high schools now use it as part of their selection procedures. For these schools, the NAPLAN provides a clear indication of the skills and aptitudes of each particular student. For better or worse, today, a good NAPLAN score can make the difference between getting into a prestigious high school, and missing out. As such, in recent years, we have had to develop our tutoring courses to meet the demands of many parents and students that want to increase their chances of performing well on the NAPLAN.
2. Because it provides a good indication of how your child is performing within a larger context.
Even if your child is not interested in attending a private or selective high school, the NAPLAN test can serve as a good indication as to how your child is performing within a larger context. Often, if a child goes to a small school, it is hard to know what their A+ means within the larger context of the state. Often, students at smaller schools, who get high marks throughout year 12 can be disappointed by their final ATAR score. Just because you are performing well within your school, doesn't mean that you are performing well within the state. As such, the NAPLAN score provides a good indication every 2 years of how your child is performing.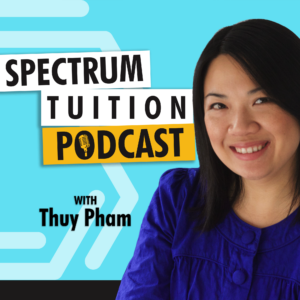 Click here to listen to Episode 7 of the Spectrum Tuition Podcast: Why NAPLAN Is Important
3. Because it is a good way of seeing whether your student should be sitting scholarship and selective school exams.
There are many opportunities for high performing students to gain entry and scholarships to prestigious and selective high schools. The NAPLAN test can provide a good indication as to whether your child would benefit from those sitting these tests. It is an option that all students in the higher bands should consider.
4. Because NAPLAN questions often assess higher-level skills such as problem solving and application of knowledge.
When providing tutoring for the NAPLAN-sitting students in Footscray, Hoppers Crossing and beyond, we don't just help students get all the answers right in order to get good scores; we also help them to develop important problem solving skills that are applicable throughout their education
5. Because high schools nation-wide are moving towards using NAPLAN results to determine students' educational future.
As soon as standardised testing was introduced it was about more than simply evaluating schools' performance. Not only do selective and private schools carefully track the NAPLAN grades of potential entrants, increasing pressure on state and federal government to improve schooling standards mean your child may soon need to meet a high NAPLAN grade to even be allowed to complete year 12. NSW is already moving to introduce this legislation, and if it is passed the other states are sure to follow. Don't wait until too late to focus on NAPLAN.
At Spectrum Tuition, our courses are designed to help students feel more confident and successful at school and master all the skills they need for NAPLAN success. Click the link below to start a FREE 7 day challenge where you will complete a series of online mini lessons to develop your skills in English & Mathematics in a year level of your choice!
If you are interested in finding out more about the NAPLAN test, or if you would like to discuss ways in which you and your child can prepare for the test, please feel free to contact us.
NAPLAN Practice Tests Year 3
ACARA
All ACARA Past NAPLAN Practice Papers
National Assessment Program
QCCA
Year 3 Test sets
NAPLAN Practice Tests Year 5
ACARA
All ACARA Past NAPLAN Practice Papers
National Assessment Program
QCCA
Year 5 Test Sets
NAPLAN Practice Tests Year 7
ACARA
 All ACARA Past NAPLAN Practice Papers
National Assessment Program
QCAA
Year 7 Test Sets
NAPLAN Practice Tests Year 9
ACARA
All ACARA Past NAPLAN Practice Papers
National Assessment Program
QCAA
Year 9 Test Sets