Spectrum Tuition's Online Learning Program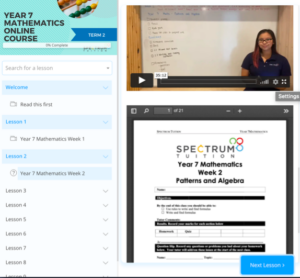 Do you prefer to be able to play, pause, rewind and repeat information as many times as you want?
If you enrol in our online program, students will get all the features of our face to face program – but they will be able to learn at their own pace, revisit materials as many times as they want, not worry about being absent from class and be in the comfort of their own homes!
How  our  online  classes  work
Our online classes are designed to be like having your own private tutor to take you through the Spectrum Tuition courses at a day and time that is convenient for you. Experienced Spectrum Tutors will take you through all aspects of the curriculum or through courses that specifically teach students techniques on how to tackle questions that are likely to appear on competitive exams.

So what do you get from our Online Program?
Weekly video lessons created by Spectrum Tuition Staff that you can play, pause, rewind and repeat as many times as you want.
Weekly course books directly aligned to the Australian curriculum that have been tested and refined for 20 years!
Weekly quizzes to monitor student progress
Weekly check-in phone call with Spectrum Tuition Staff

Detailed feedback provided on all work submitted via email and 3 x 30 min private tutoring support
What is the difference between face to face classes and online at Spectrum?
You will get access to all of the same features and coursework as you would with our face to face classes, but in the comfort of your own home.  See table below  for  a comparison  of  face  to  face  versus  online  classes.

Have any questions regarding the online program? Give us a call.
Or click the link below to book your FREE assessment today!

Already completed an assessment and want to enrol in the online program? Click here