Spectrum Tuition's Online Learning Program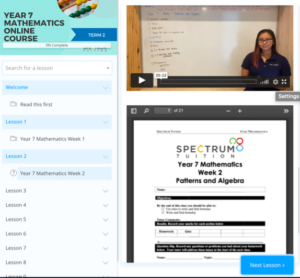 Welcome to the Spectrum Tuition online program, where we offer a comprehensive and engaging learning experience for students in Australia. Our program is designed to help students from Grade Prep to Year 12 develop essential skills in mathematics and English, as well as programs to prepare for scholarship and selective exams, while also providing them with the tools and confidence to succeed in their academic pursuits.
How  our  online  classes  work
Our online program is delivered by experienced and qualified tutors who are passionate about helping students achieve their goals. We use interactive teaching methods and engaging learning materials to make the learning process fun and effective.
The Spectrum Tuition online program is flexible and convenient, allowing students to learn at their own pace and on their own schedule. Our program is also affordable, with no hidden costs or fees.
As part of the program, students have access to a wide range of resources, including online and on demand tutorials, practice quizzes, and homework assignments. We also provide regular progress reports to keep parents informed of their child's progress.
At Spectrum Tuition, we believe that every student has the potential to succeed, and we are committed to helping each student reach their full potential. Our online program is tailored to meet the individual needs of each student, ensuring that they receive the support and guidance they need to excel.
Join the Spectrum Tuition online program today and give your child the gift of a brighter future.

So what do you get from our Online Program?
Our online program offers a range of effective learning resources to help students succeed.
Each week, we provide video lessons that are created by our experienced and qualified tutors. These lessons are fully customisable, allowing you to play, pause, rewind and repeat as many times as you need to fully understand the material.
In addition, our weekly course books are directly aligned with the Australian curriculum and have been refined over the past 20 years to ensure maximum effectiveness. We also provide weekly quizzes to monitor student progress, along with a check-in phone call with your designated Spectrum Tuition Online tutor.
We understand the importance of feedback, which is why we provide detailed feedback on all work submitted via email. To further support your child's learning journey, we also offer 3 x 30 min private tutoring support sessions with your designated tutor.
At Spectrum Tuition, we believe in providing a comprehensive and personalised learning experience to help each student reach their full potential. Join our online program today and give your child the tools and support they need to excel in their academic pursuits.
What is the difference between face to face classes and online at Spectrum?
You will get access to all of the same features and coursework as you would with our face to face classes, but in the comfort of your own home.  See table below  for  a comparison  of  face  to  face  versus  online  classes.

Have any questions regarding the online program? Give us a call.
Or click the link below to start your FREE assessment to get access to your free 7 day online trial today!
Already completed an assessment and want to enrol in the online program? Click here