"WONDERFUL TEACHERS, WELL-STRUCTURED PROGRAM, EXCELLENT WRITTEN MATERIALS My son and his cousin went along to SPECTRUM (the Footscray Maths/English Scholarship Preparation classes) on Saturdays for the best part of a year. I was surprised and pleased that both boys were offered scholarships at APS schools and the course provided a huge confidence boost." – Tara Wilkinson, Parent.
At Spectrum Tuition, we are passionate about scholarship examination preparation. We believe that every student should be given the opportunity to perform at their best in order to improve their chances of securing one of these highly sought after positions at their chosen school.
Preparation for scholarship and selective exams differ greatly from school work and we have spent many years developing a program and accompanying materials to improve your child's chances of success.
Even if your child is already quite talented at school, we have found that questions on scholarship and select entry exams test students on material that may be one or two years ahead of the school curriculum. Additionally, many students may not be accustomed to answering 60 of these types of questions in 30 minutes! It is therefore vital to help your child become familiar with the different types of questions that are likely to come up, as well as practising good test taking techniques so your child is more confident during the test, which will help put your child in a much better position to gain a scholarship or place in a selective program.
Due to the extremely challenging nature of these exams, we recommend that you give your child ample time to prepare.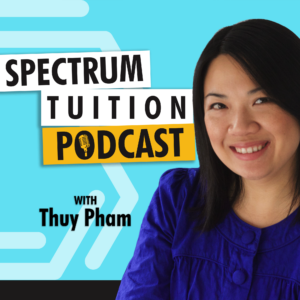 Click here to listen to Episode 5 of the Spectrum Tuition Podcast: Understanding The Difference Between Scholarships And Accelerated Learning Programs
If your child will be sitting a scholarship or selective exam when they are in Grade 6, our 40 week program starts at the beginning of Term 1. If your child will be sitting the selective schools' entrance exam when they are Year 8, our 40 week program starts at the beginning of Term 3 of Year 7. We have the following options to help your child get the preparation they need to improve their chances of success:
1. Weekend classes
The most complete option to give your child every chance of achieving success. Through weekly classes, we will teach your child the actual steps on how to answer specific questions that are highly likely to come up on the exams. We take students through a carefully designed course, building up confidence and knowledge through worked examples, practice questions to complete, the opportunity to ask questions and receiving detailed feedback via our online tracker: www.myspectrumtuition.com.
We provide carefully designed regular cumulative exams to test students' knowledge from the beginning of the course up to that point to allow your child to continually revise and consolidate their knowledge to increase the likelihood of remembering concepts taught even at the beginning of the course. Enrolment in our selective preparation courses will familiarise students with types of questions likely to come up on the exam. We have three campuses located around Melbourne: Footscray, Albion and Hoppers Crossing.
---
"We are very happy with the entire service provided by Spectrum. The fact that our son was able to take in so much in a relatively short period of time, from subject matter, examination tips and study preparation. He was successful in his aim to gain entry into his choice of school and now has the best opportunity to achieve his goals in life. We believe it was his time with Spectrum Tuition which made the difference and we are very grateful for all they did for Daniel."

- Daniel Rogers, Parent

---